Master Bathroom...
finally a room worth of the name.
Before
...Can anyone say
1975.
Unlike most homes which have a "powder room" in the hall for guests, our half bath was off the master bedroom. We briefly contemplated turning it into a 3/4 or even a full bath since there was plenty of room for one. However, it would have involved adding plumbing for a new shower AND moving the plumbing and electrical for the washer/dryer. After looking at the cost versus the added benefit and future resale value we decided it wasn't worth the addition.
Since we were now only going to replace what was already there it greatly reduced the amount of time and money necessary for the renovation which meant it could happen much sooner than we had anticipated!
Yay!
Unfortunately, this also meant I had no vision for what I wanted to room to look like...SCARY!
The only thing I did know was that I wanted to room to be light, bright and modern. This is the first room we are tackling which means it will set the tone for the rest of the renovations... so. much. pressure.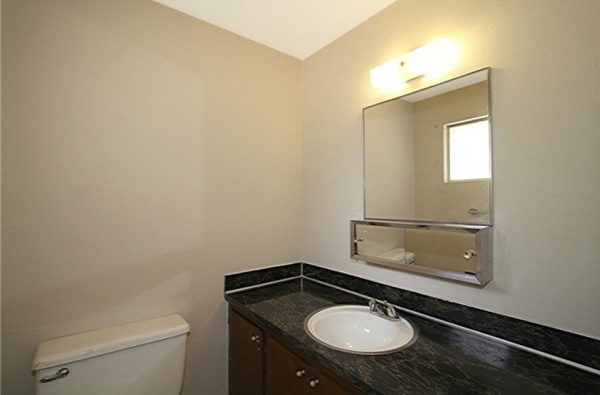 Let's take a look from the ground up.
For me, picking tile is so scary. Even though it's a tiny 5' x 5' room, I feel like it is a permanent decision that can never be changed. In all reality if it would be pretty simple to swap out if I don't like it but who wants to start a renovation off on the wrong foot? The tile was going to set the tone for the whole room and therefore the whole house and OMG what have I gotten myself into? Let's take a deep breath. Just think; every renovation project starts with Pinterest and shopping, two of my favorite things.
I spent weeks just browsing and pinning a variety of pictures on Pinterest. After a while I started to scroll through my own Pinterest board to see if I could find a theme. Lo and behold almost all of the pictures I pinned were of light color bathrooms with grey walls and small pops of color. I think I found my theme. This works well because I knew I wanted a light and bright room since the space is so small.
Our first trip to the salvage yard paid off big. We were lucky enough to find the perfect tile for the project and just enough of it for the whole room. We found these great large format 12"x24" tile in a light graige color. However, I thought the format was a little too big for the room and made the floor feel small. I decided to cut down the tile to a slightly smaller 6"x24" format to elongate the space.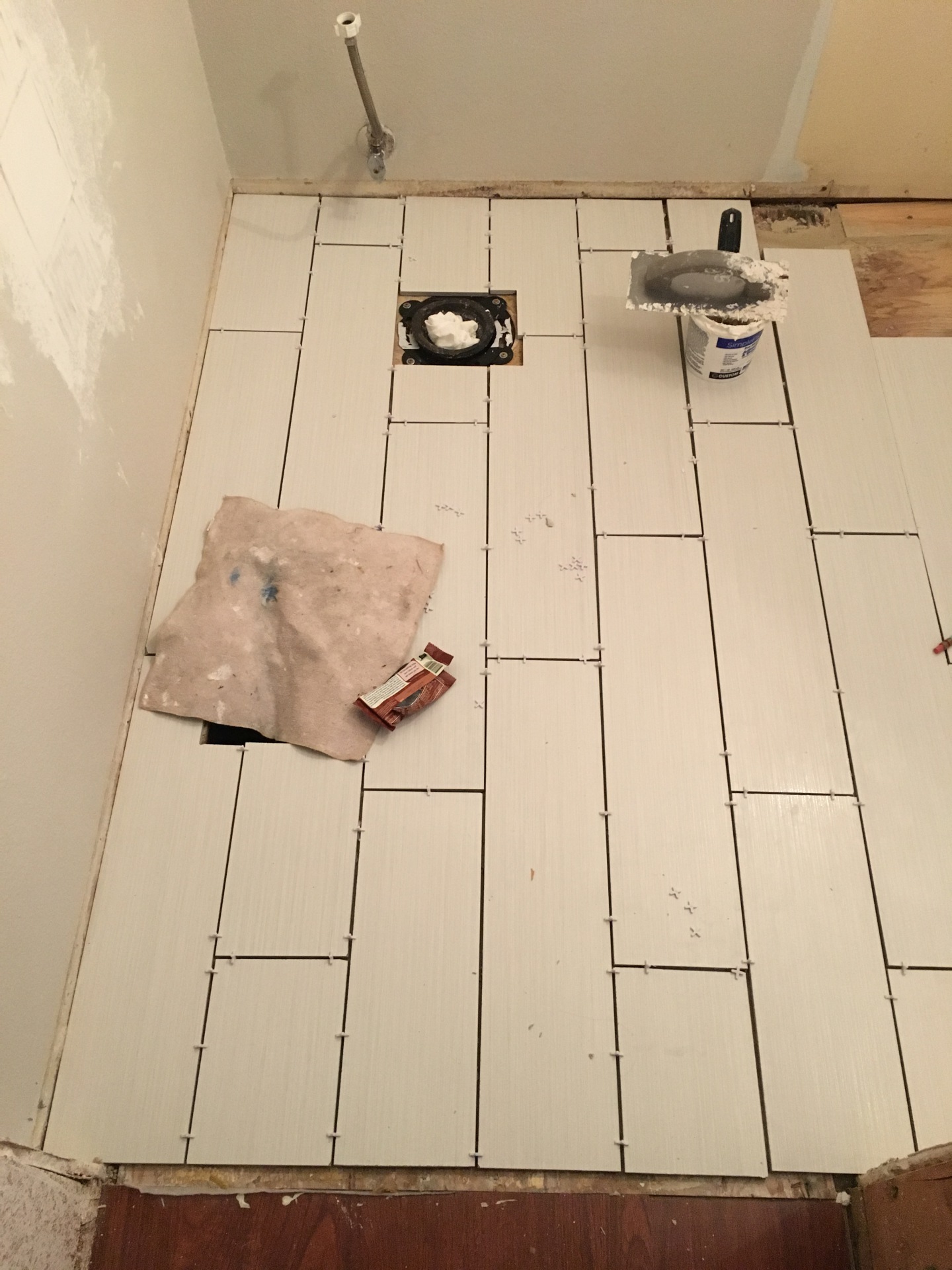 The instillation process was pretty easy since it was such a small area. I'm so glad I decided to cut the tile down. It gave the room a nice modern look without the increased work of using much smaller tiles. I'll add a simple tile instillation video in the DIY 101 section to show you how simple it is.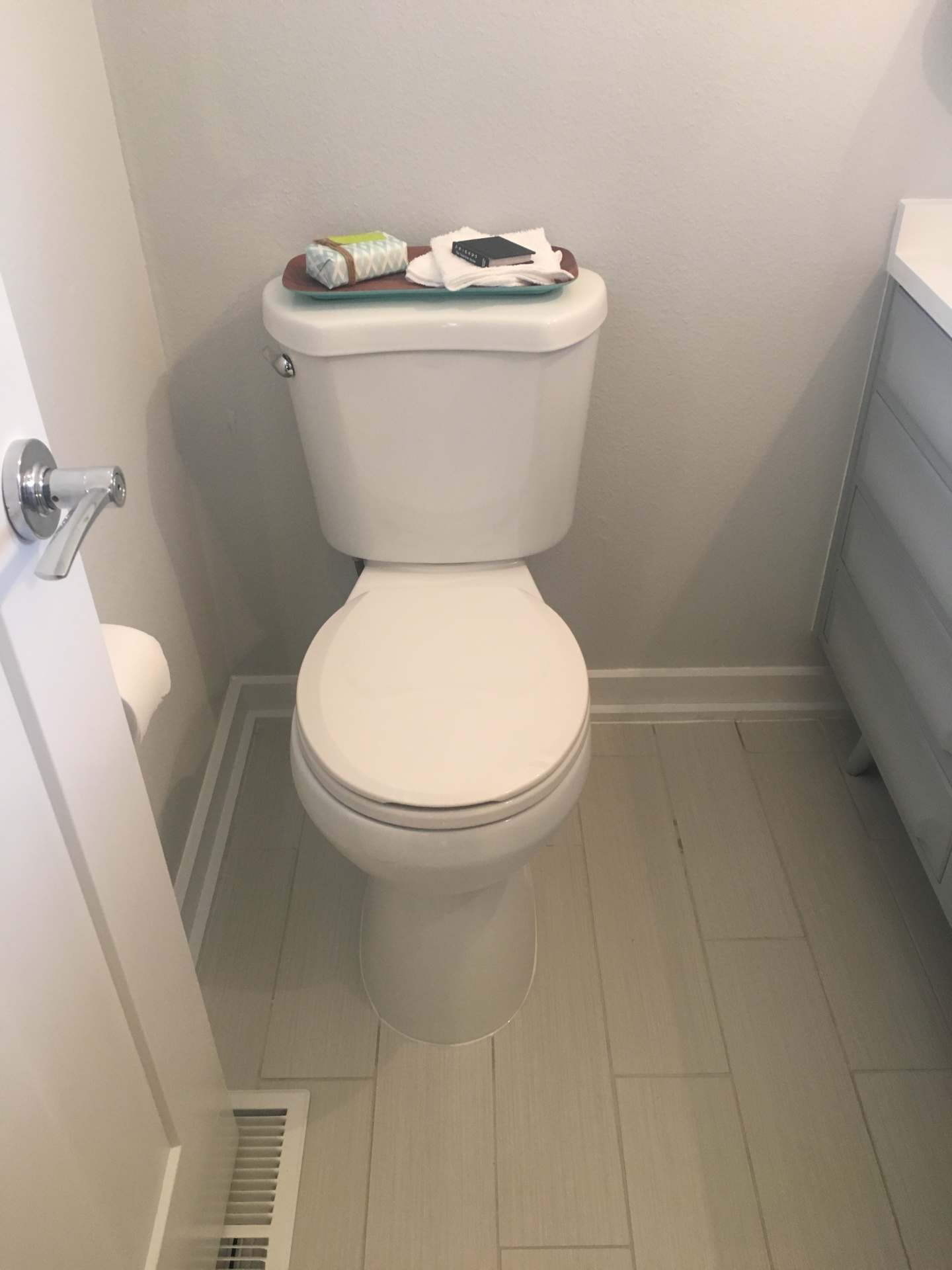 Finishing the flooring was a great start to this project. Thanks to shopping at the salvage yard i was able to finish the floor for $75. $25 on the tile its self and about $50 on mortar, grout and tile spacers. There is still a lot of work to do but I'm beyond proud of the progress on the floor.
Let's go up an inch to the

base molding.
Alright, let me get this off my chest...I HATE base molding. It almost always looks generic and out dated unless you spend a ton of money on custom molding. I knew I wanted something different and I didn't want to spend a lot of money for it. Sometimes that's easier said than done. In this case it just meant that I was going to have to be extra creative. So back to the Pinterest boards for inspiration. Searching for molding had become daunting. I searched "base molding" "unique molding" "DIY molding" and any other combination including the word molding and I wasn't finding anything that inspired me. However, the second that I stopped obsessively searching for molding is when I found exactly what I was looking for.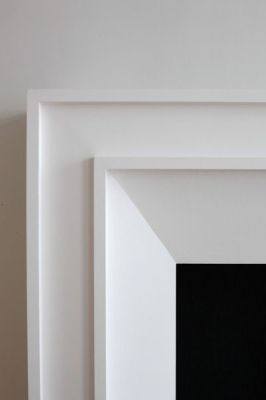 Behold, the glory of this molding!!!

So, I'm pretty sure this is a picture of a fireplace, I'm not really sure, the link is not in English and I can't find any other information about it. Despite the fact that this is a fireplace surround (I think), wouldn't this molding look great around a door? I knew this was the molding inspiration I was looking for. Now I just needed to figure out how to recreate it. The tricky part was going to be making sure the proportions were pleasing. Off to the hardware store…again!

I was on the hunt for molding boards that would give me the look I was going for and one of the key features of the inspiration picture is the very square edges. Who knew that would be the hardest part. Leave it to Home Depot to pull through again! After wandering the same two aisles for what seemed like hours I finally came across exactly what I had been looking for.

 2"x1" and 4"x1" white molding with square edges! I cannot express my excitement.  I was starting to get doubtful that I was actually going to find what I was looking for… I laid out the 2x1 on the ground and put the 4x1 on top…stepped back…held my breath and danced the sacrificial dance to the DIY Gods….It was perfect!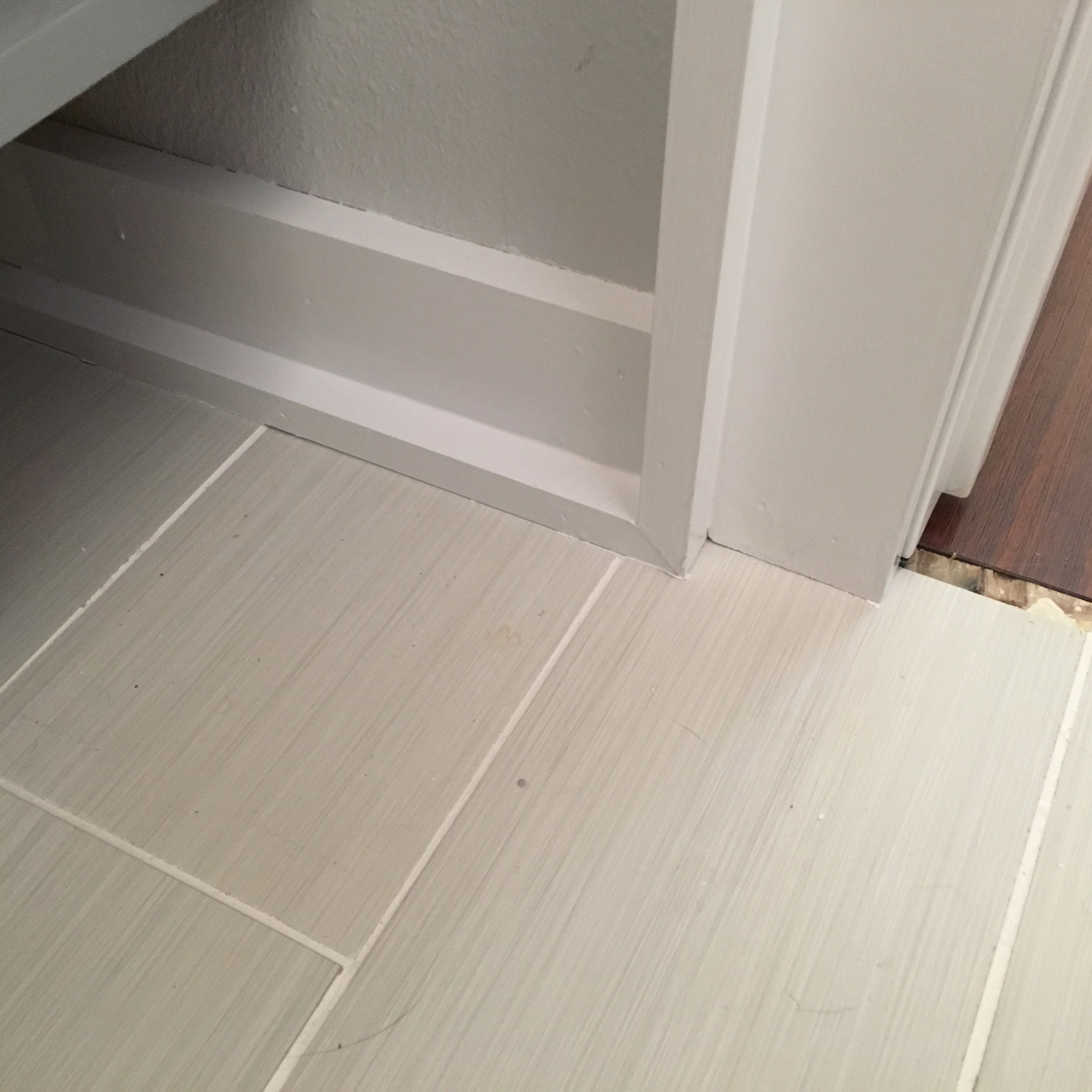 Crisp, Clean, Modern, and Unique

and exaclty what I had in mind.
I seriously could look at this molding all day. I am beyond amazed at how well it turned out. I've never seen anything like it and it was something that was easy and cheap enough to carry throughout the entire house…someday.
The key to great looking molding is attention to detail. Despite being such a small room, completing the molding 100% actually took me a bit of time. From filling the holes, to painting to caulking the edges, it's not a quick process. My best advice when taking on a molding project is to take it one step at a time. Focus on completing it one step and one room at a time. New molding, beginning to end, is not a weekend project.

And don't take what the big box stores have to offer as your only option. Inspiration can come from anywhere, even a fireplace surround.  

This project was worth every second of time energy and effort that I put into it. I couldn't have gotten better results if I tried. I'm so excited to see this molding go up in the rest of the house. But first, I should probably finish the rest of the bathroom.

Onward and Upward: it's time to talk

Vanity...
Bathroom Vanity that is...
Do you know how expensive bathroom vanities are? bleepety bleep that's a lot of money. I wanted to maintain the functionality of the space and a huge factor of that was the amount of counter space the vanity offered. I went off to Lowe's thinking I could just pick one off the shelf and take it home...HAHAHAHA...HA. It was about $1500 for a new cabinet. WHAT?!? No wonder the average bathroom remodel costs 10K. We could have gone with something Ikea but they were all just a little too small and I didn't want something so generic. Enter Craigslist. Oh how I love Craigslist. Ty was actually searching for me and found the perfect dresser that with a little effort could be the perfect vanity. AND, the best part about using a dresser instead of a typical vanity is the dresser isn't as deep so we gained a few inches of space in the room without losing any of the functionality of the large vanity. I haggled the price and picked up this beauty for $200, not a bad deal.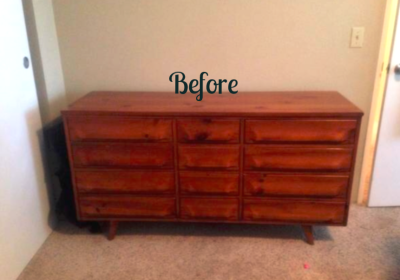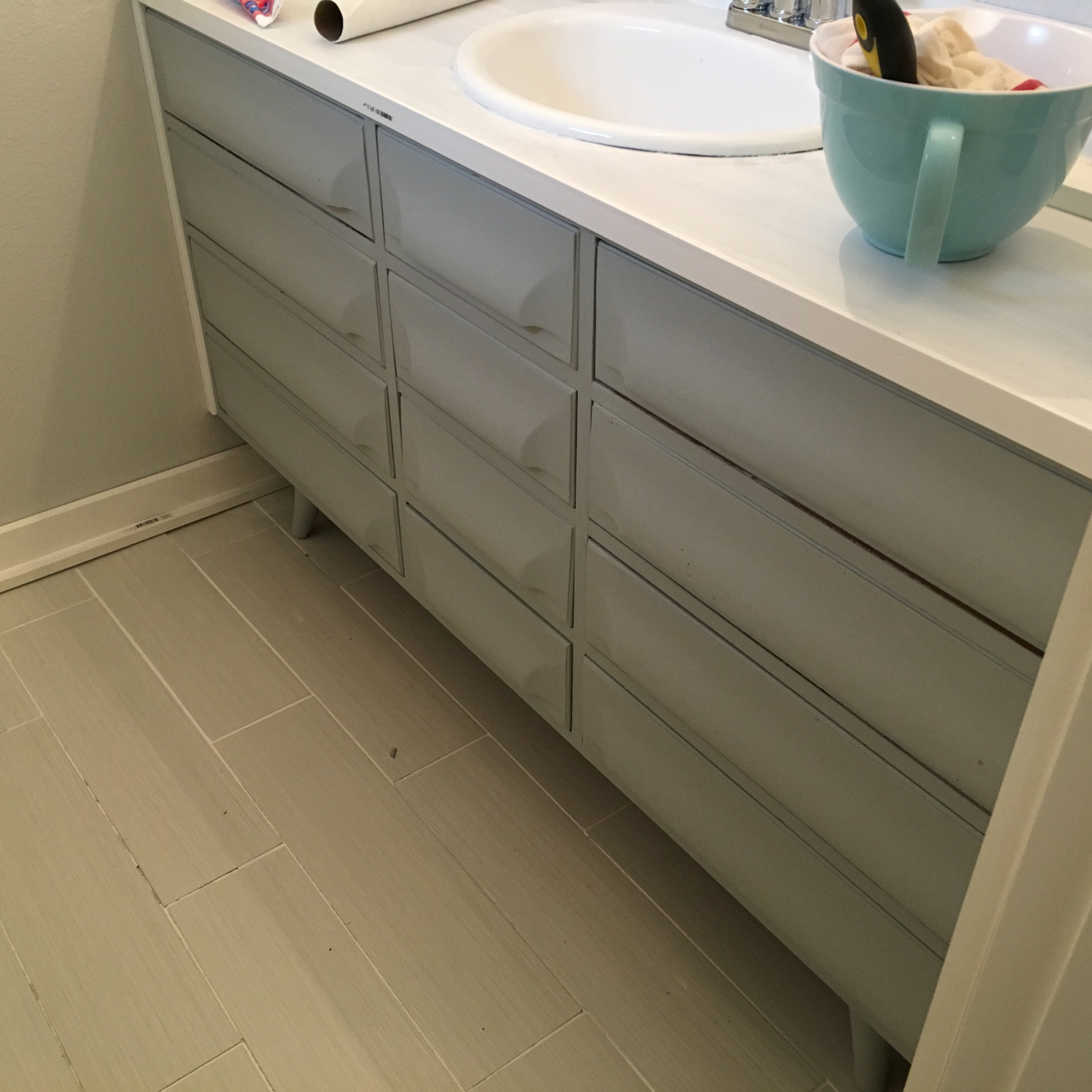 Already

so

Pretty

and

not

Even

Done

I wanted to stay with a light  and neutral color scheme so of course grey is the go to color. I thought about making the vanity a "statement piece" but I think I'll save that for the other bathroom.

A few key features of this dresser and reasons why I went with this one: the counter space, the overall dimensions and the drawer fronts. I like that the dresser isn't just plain drawers with pulls and I LOVE that the handles are built into the drawers so I didn't need to add hardware that was going to stick out and get in the way. Working in such a small space, these are a few things to keep in mind.

The vanity shape, color, and style can really change to feeling of the room. It would have been very easy to make this dresser shabby chic with some white chalk paint and dark wax. I stuck with my original vision and went with something sleek and contemporary. I think the vanity makes the perfect statement without overpowering the room.  

You Can't Talk About The Vanity Without Talking About The Coutertop Too!
I searched for weeks to find the perfect countertop for the bathroom. I love the look of Carrera marble but I wasn't willing to shell out a few hundred dollars for a big slab. Our second option was white concrete counters. However, again it was going to be a few hundred dollars since you have to buy the entire kit which is made for a kitchen sized project rather than just a tiny bathroom. 

I figured I would hold off on finding a new counter top surface and just use the dresser top for now. So after I installed the vanity into the room and hooked up the sink and faucet, I was able to add trim around the top and front edge of the counter top to make it fit the space perfectly and look like an actual counter. I started to simply paint the counter white with a high gloss paint but I still wasn't getting the look I was hoping for. Ty was trying help me brainstorm what we could use and decided a trip to the hardware store was necessary. Someone suggested using the Tile and Bathtub spray paint to get a nice solid white finish, find it
here
. I was beyond thrilled with that suggestion. Seriously a few dollars for trim and about $30 worth of paint and now we have a gorgeous countertop.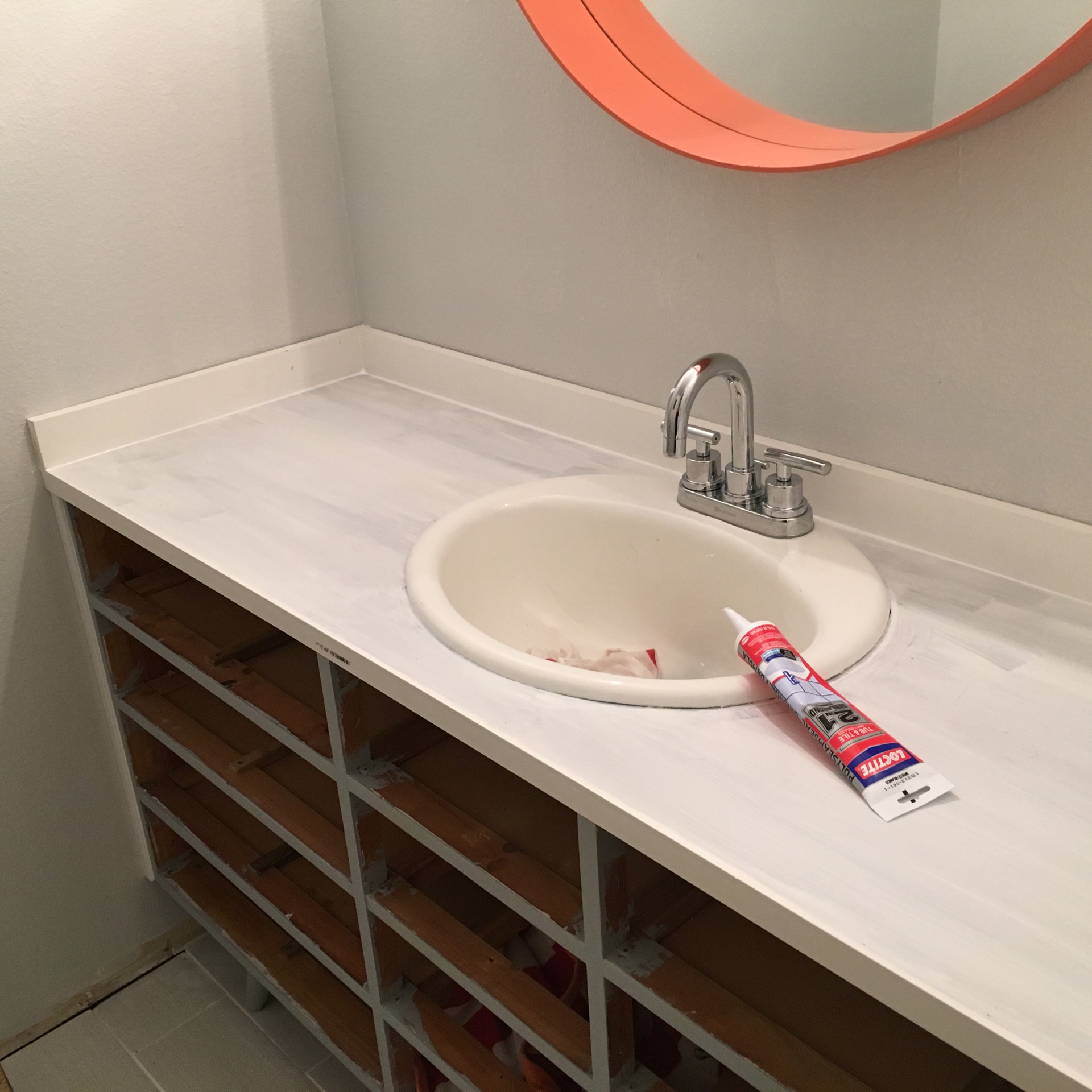 Pre-Paint

Here you can see where the trim was added to make it look like a typical bathroom counter. 
Trim

You can't exactly see the trim on the side that I pointed out but it plays an important role in making the dresser look like a real vanity. The dresser is about half an inch shorter than the walls so there is a 1/4 inch gap on either side. I didn't like how the gap looked and it was a little too much space to just caulk. I added a little piece of trim between the cabinet and the wall on either side and painted it the same grey as the cabinet which made all the difference in the world. Adding the trim to the counter top covered that gap. For the trim on the front I made sure to make the trim the same width as the wall (not the cabinet) and now everything looks seamless. I am one happy home owner!

Trim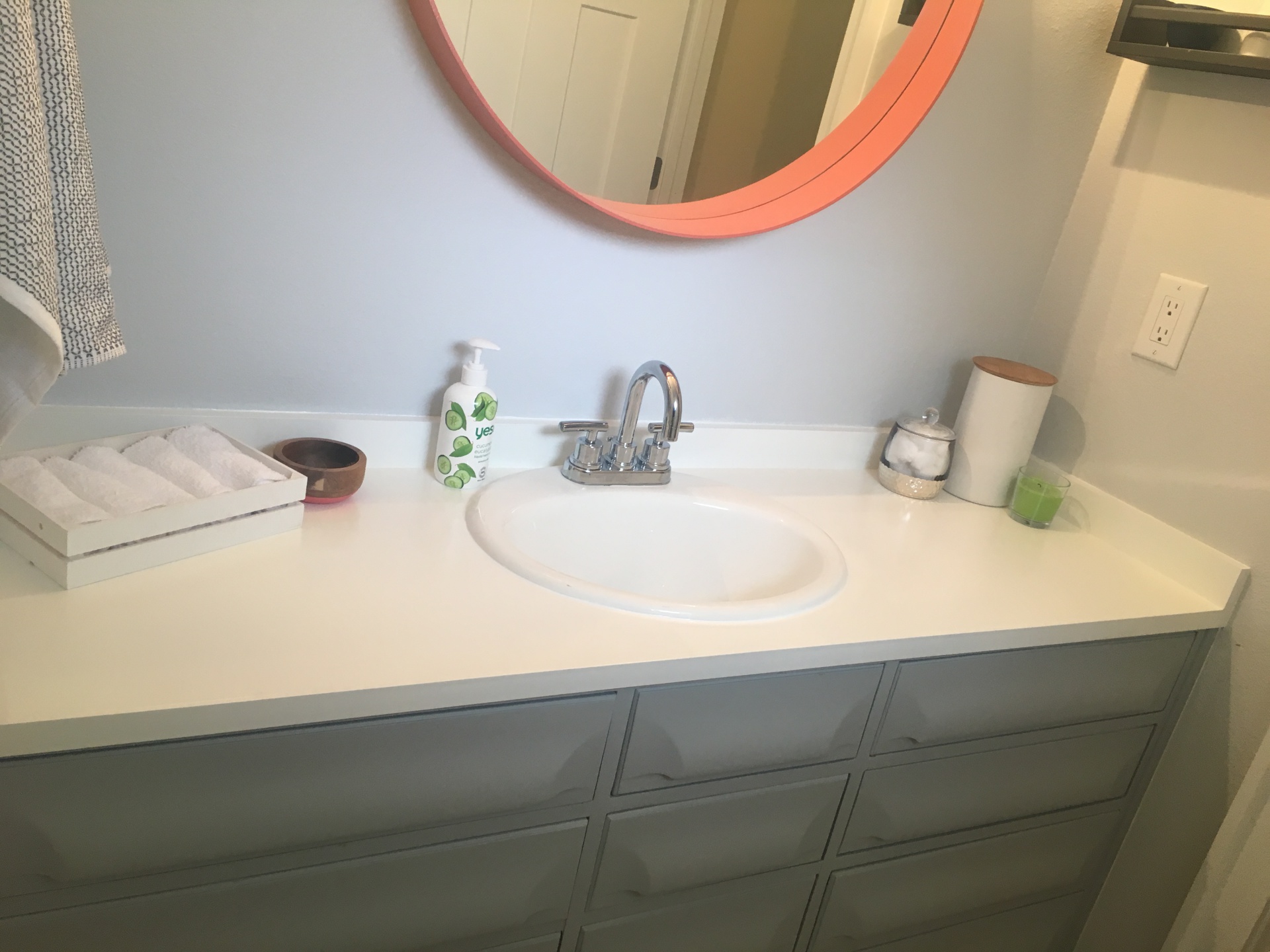 Look at how that counter shines! I love how these turned out and I can't believe how simple the paint solution was. Honestly I have no idea how the tub and tile paint is going to hold up over time. I still really love the idea of concrete countertops. I'm thinking when we get around to renovating the other bathroom we will by the entire kit and put that counter in both bathrooms. Thankfully it would be pretty easy to take this counter out and I didn't spend a ton of money so I won't be too mad if it doesn't hold up to normal use.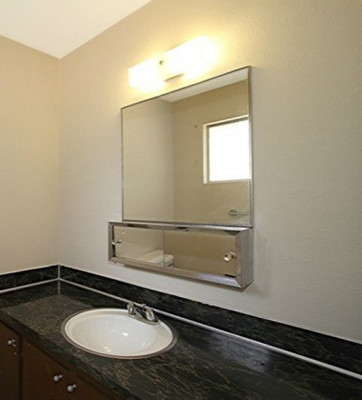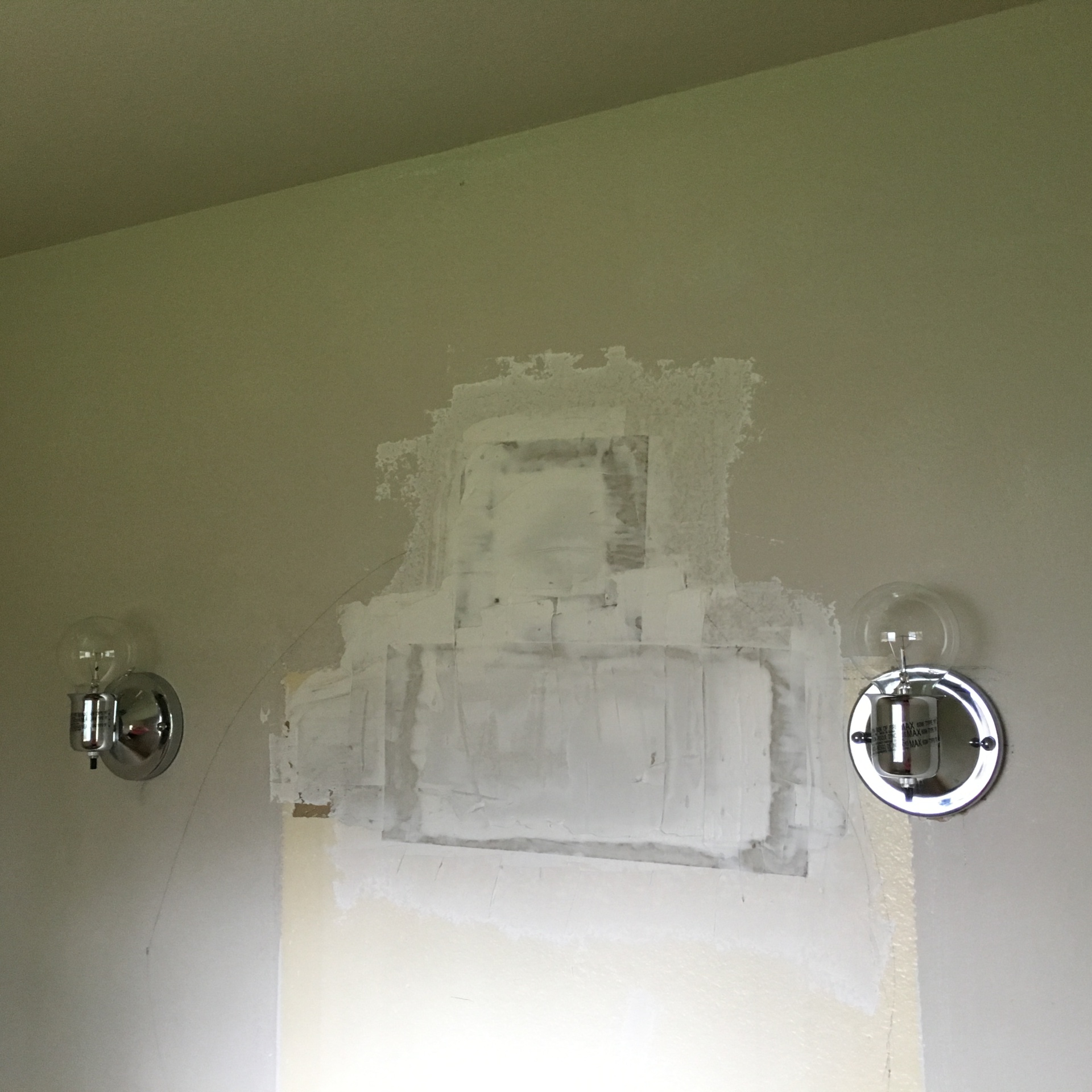 The light in the before shot was original to the house and so boring. It technically did its job and lit up the space but it was awful lighting and was not good light for getting ready in. After looking through all my Pinterest pictures of bathroom I noticed that all of my pins had lights flanking the mirror rather than one light above the sink. So I had an overall goal, now I just needed to find the light fixtures to do the trick. That, for me, is the hard part. I hate nearly all light fixtures. They're all so ugly and if they're not ugly they're a thousand dollars, each. However, it was just time for me to get creative, again! I checked the lighting department of all the big box store every chance I got and never found anything that I liked. One day when it was getting close to needing to pick the fixtures I spend like an hour in the lighting department at Lowes. And FINALLY, I found what I was looking for. Tucked way back in the corner was these simple chrome fixtures. I had probably passed them over a million times before because they had a ridiculously ugly glass shade paired with them. Forego the ugly shade and add some decorative light bulbs and voila! A $6 light fixture, that's right! I found these lights for $6 each. Literally the lightbulbs I put in them were more expensive! The wiring was beyond easy, I'll add a how to in the DIY 101 section to show you how simple it really is.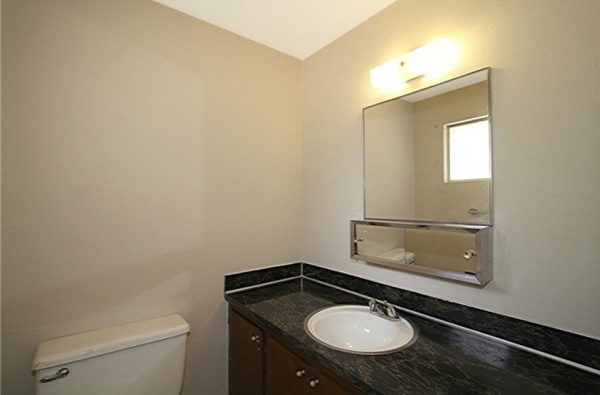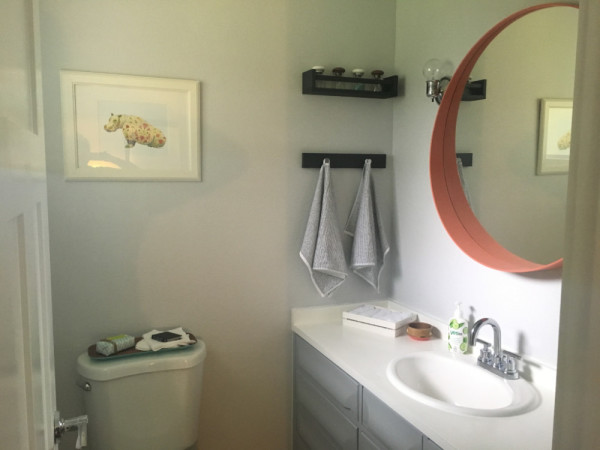 If I hadn't done it myself I wouldn't believe this is the same room. I am thrilled with the results. Now I can't wait for the rest of my house to look like this. The entire renovation took about three weeks and I was able to complete and I spent a total of $800, including paint and decor. This project was the perfect jumping off point for the entire home renovation. I was really nervous since this space would set the tone for the rest of the house. The project turned out beyond perfect and I will be extremely pleased when all the rooms in my house look this good. But that's a story for another day. I hope you enjoyed my story and I hope I offered some inspiration for your next project!