The real never ending story
The Plan

Before

After

Before

Before

Before

Before

Empty

Cabinets

Counter

Lights

Before

Tile Floor

During

During
Check out my Inspiration board here! 
The Before
I don't think I'm alone is saying that I hate laundry. Unless you're a nudist it truly is never ending. On top of housing the washer and dryer, the laundry room is required to be one of the most functional rooms in the house. And unfortunately, this is one of the rooms where function trumps form. However, I think I've found a way around that this time even though this tiny 4'x5' space needs to house: the washer and dryer, the laundry supplies, bleach detergent and such, the cat box and litter supplies, our "junk drawer" normally winds up in there plus all the other stuff that doesn't have a home. We're even going to try and store some of our luggage in there.

Let's see what it looked like when we moved in!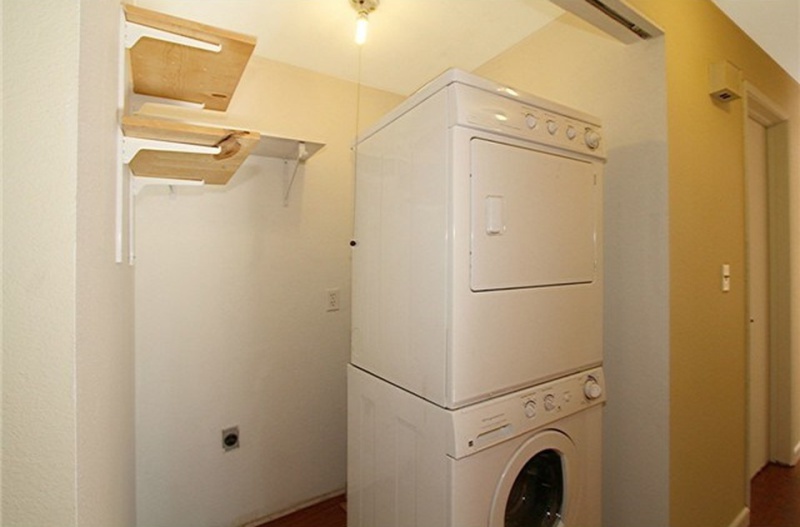 The picture above is actually the listing photo, yes this beautiful photo actually drew me to the house...or not so much. 
What I'm calling the laundry "room" is really just a notch out of the hallway. It's 4' deep and 5' wide. Just enough space for a stacked washer/dryer on the right and upper and lower cabinets on the left. I'm hoping to pack a ton of storage and even more style into the smallest "room" in the house.
The Plan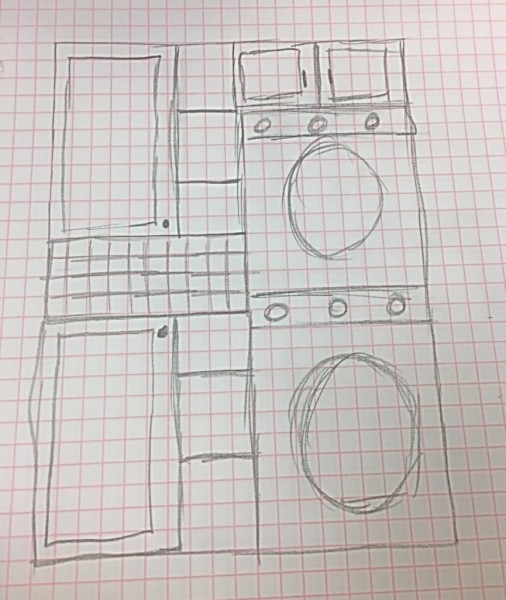 Please excuse the cave-woman drawing...
As you can see, drawing is not my forte but Ty likes to see a plan before we start any project so I do my best to get the ideas out of my head and onto paper. 
I'll keep the washer and dryer stacked on the right. I actually prefer them on the left so I can reach for detergent and things with my right hand but it's not worth moving the water supply lines for so they are going to say where they are and maybe I'll become a little more ambidextrous. Just something to keep in mind if you are pondering washer/dryer placement though.
This area, at one point, had sliding closet doors, so there is a header there with door tracks that we are going to remove. The will allow me to put the upper cabinet all the way to the ceiling and I will even get one small cabinet above the washer and the dryer. (We didn't remove it when we did a similar design in our last house and that wasted/unusable space always drove me crazy.)
I thought about just doing a floor to ceiling, pantry style, cabinet next to the washer/dryer but quickly changed the design to an upper and a lower. I'm planning to house the cat box in the lower cabinet and I don't really want the cat box in the same cabinet as my clean towels, I thought a little separation would be a good thing. Also, it's nice to have the counter top to set stuff down while I'm doing laundry but it's hard because this spot can easily become a crap collector.
On the far left, I have planned to build an upper and a lower cabinet with doors. The upper cabinet will be for laundry and cleaning supplies and the lower with house the dreaded cat box. Next to the cabinets I plan to install some open shelving, a little for aesthetics but mostly for the cats. The bottom shelf will remain empty and will have a pass through to get into the lower cabinet where the cat box is. This way the cats will have unlimited access to their box but I don't have to see it every time I walk down the hallway. Let's cross our fingers the twins can figure this out with minimal accidents. On the other shelves, I'll add some baskets and decorative pieces to dress up the room a little.
That's the master plan, Let's just hope I don't run into any "surprises" along the way.
The Progress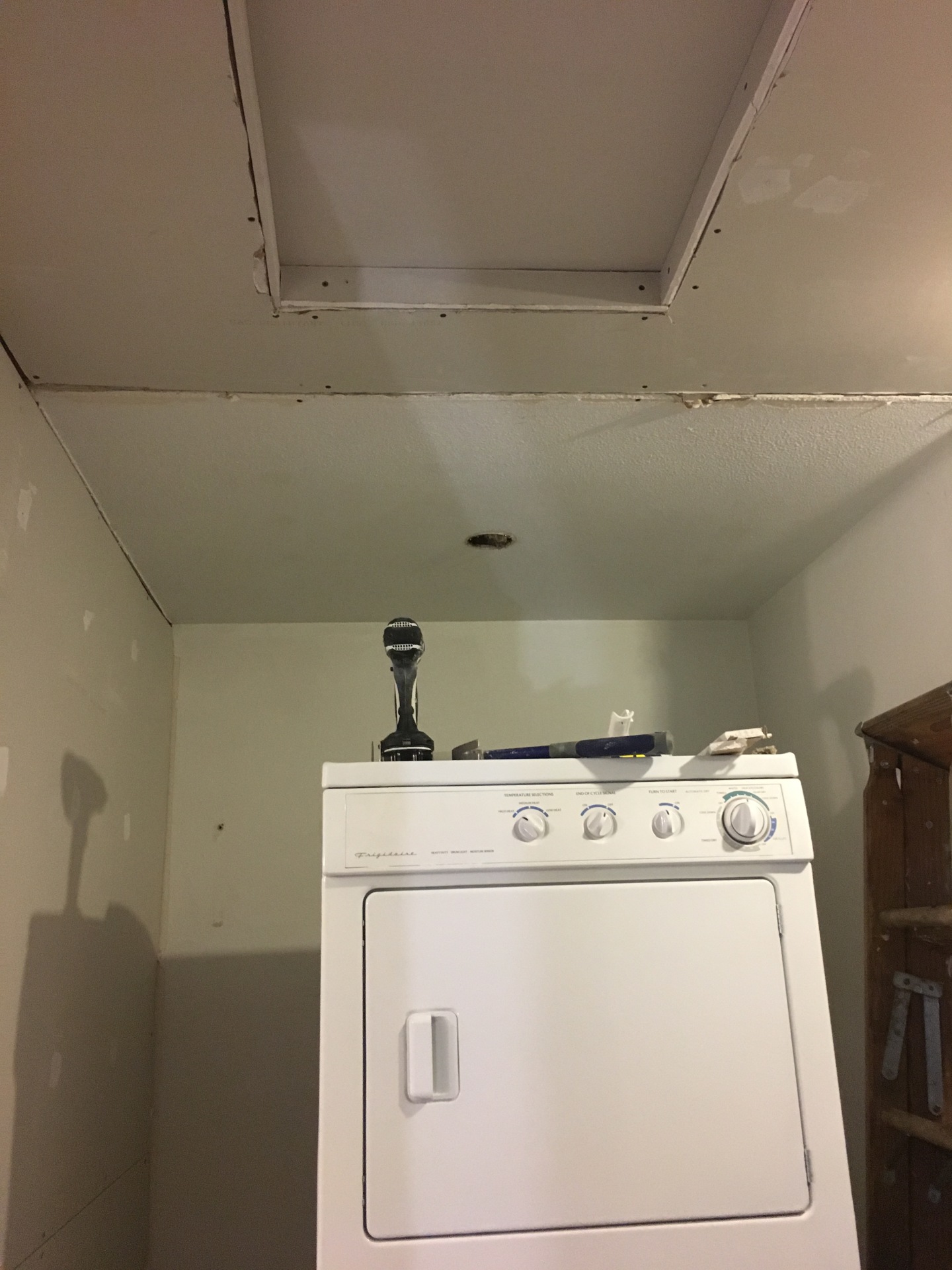 I was able to remove the header with no issues and just look at how much space I've added. I will definitely be able to add a nice big cabinet above the washer/dryer. Now I just need to patch the ceiling.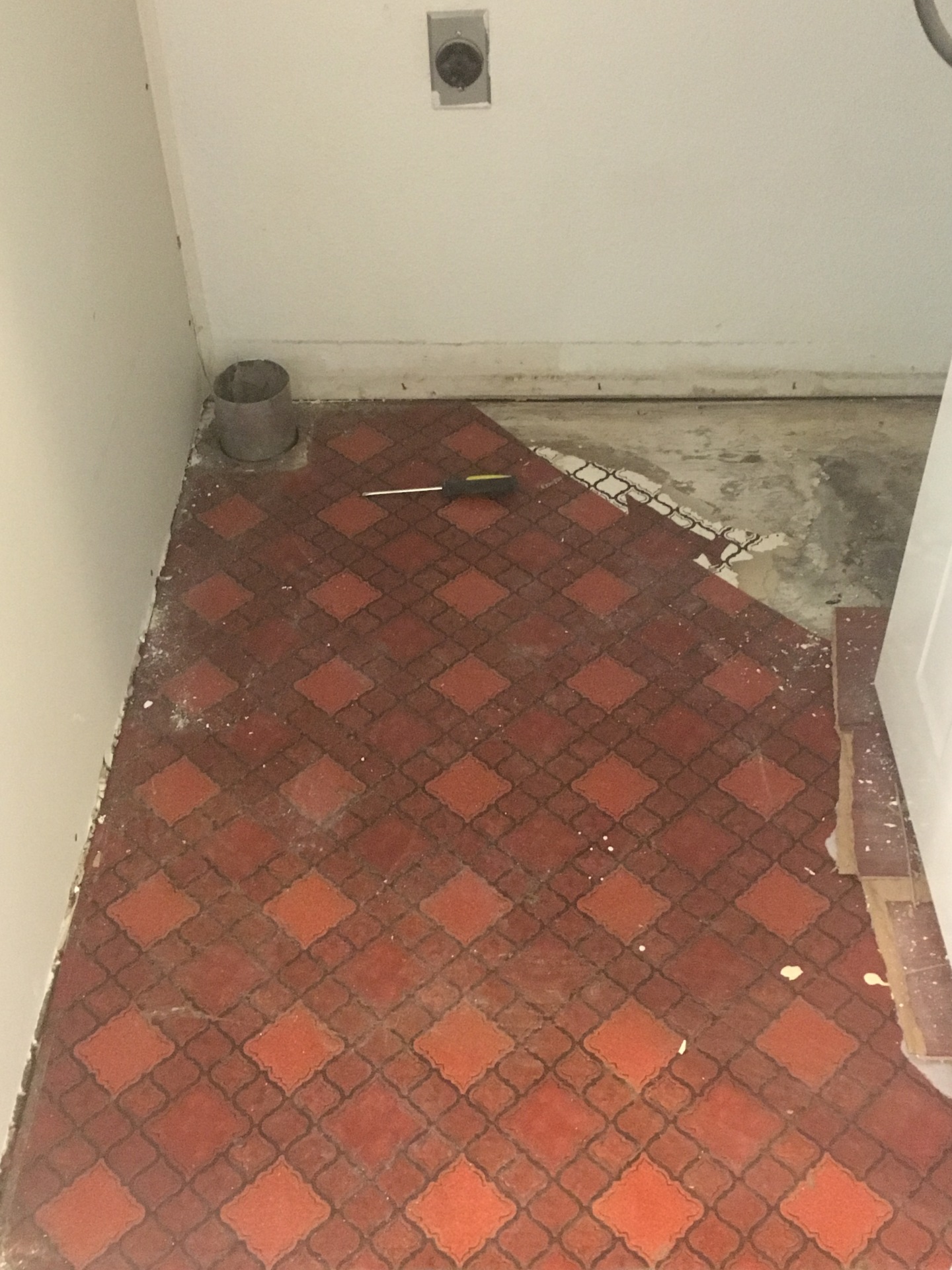 If you follow me on social media you saw this is what I found when I took up the laminate flooring. It's almost old enough to be back in style but not really the look I am going for. This will have to go.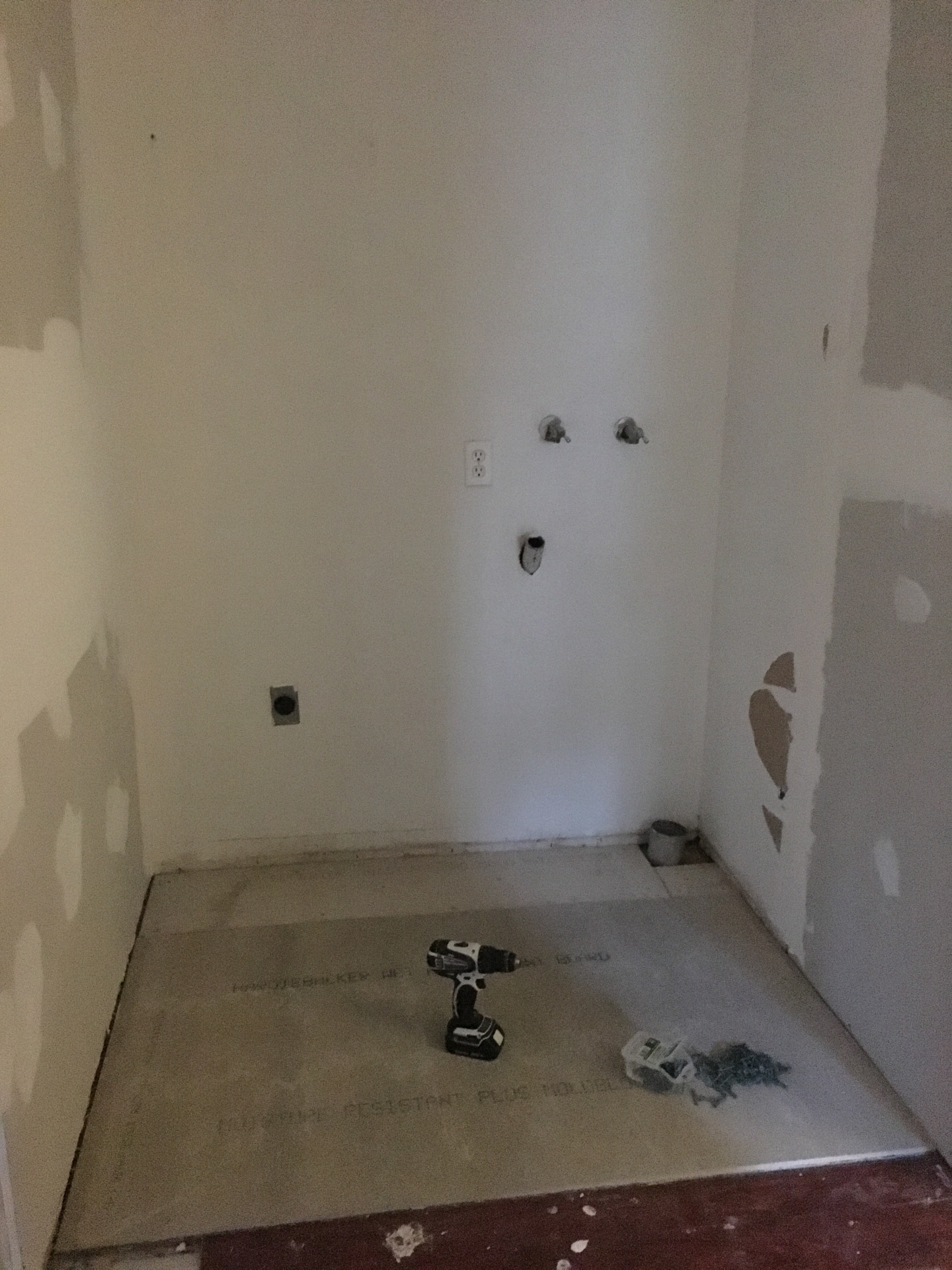 Here is the space empty and ready for flooring. You can see, I moved the dryer vent to the right, so it doesn't get in the way of my cabinets. I've patched the drywall and layed down cement board to prepare for tile. It was so satisfying to turn the room into a blank canvas. It's much easier to invision how I will use this space without the distraction of the old washer/dryer or that ugly flooring.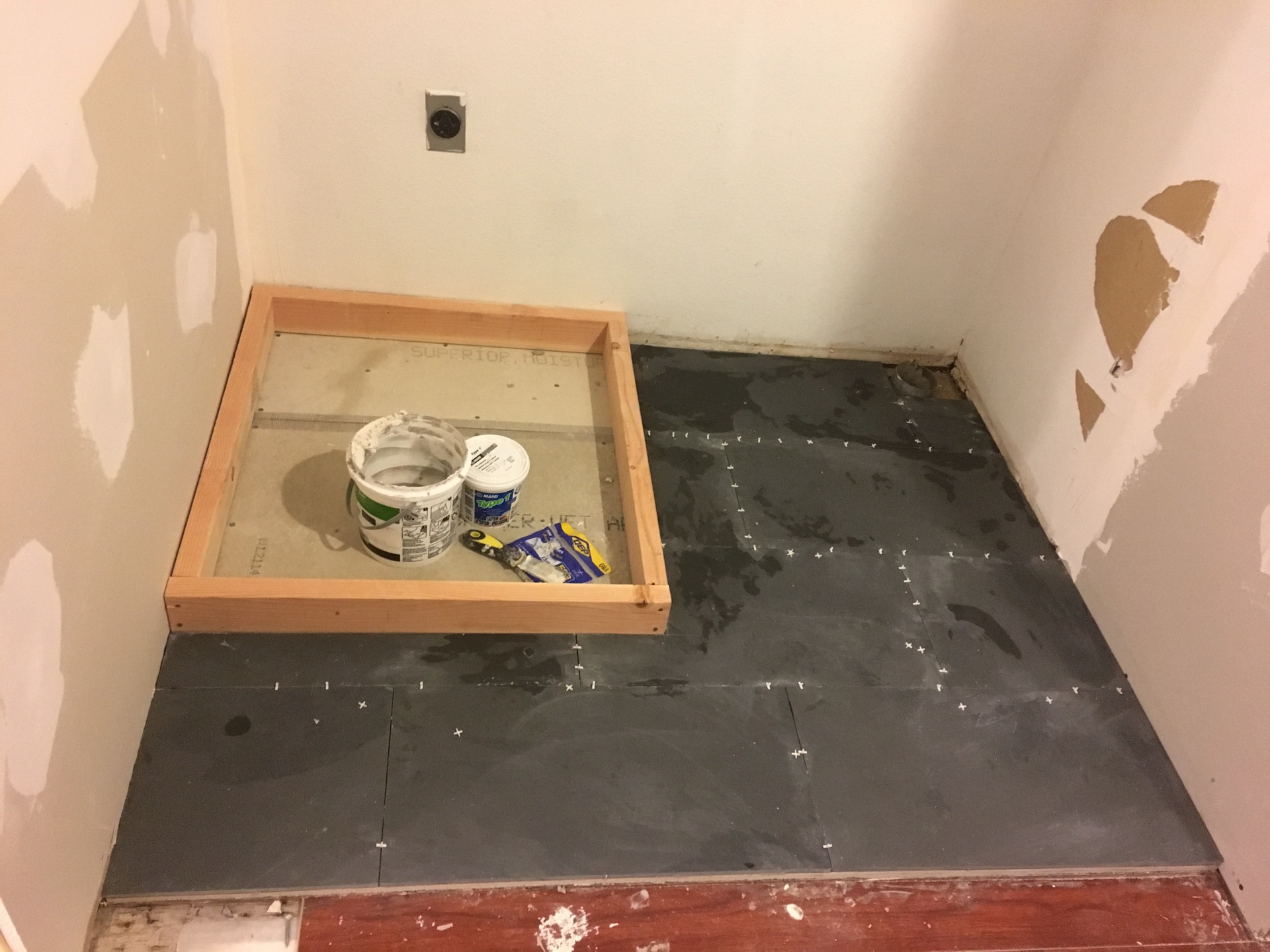 The slate tile floor turned out even better than I imagined. I almost had to go with a different tile but I'm so glad I listened to the little voice in my head and looked at a few different stores to get exactly what I wanted. Slate was a very inexpensive option and the nature tile brings a little something extra to this tiny space. On the left, I installed the cabinet bese and tiled around it so I wouldn't waste money on tile you will never see. This floor was about $50 to install and so worth the extra time it took to tile. I was considering a stick down laminate tile but I couldn't find any that gave the look I wanted and it wasn't any cheaper than this tile, I would have simply save a little time on installation but again, well worth the extra effort.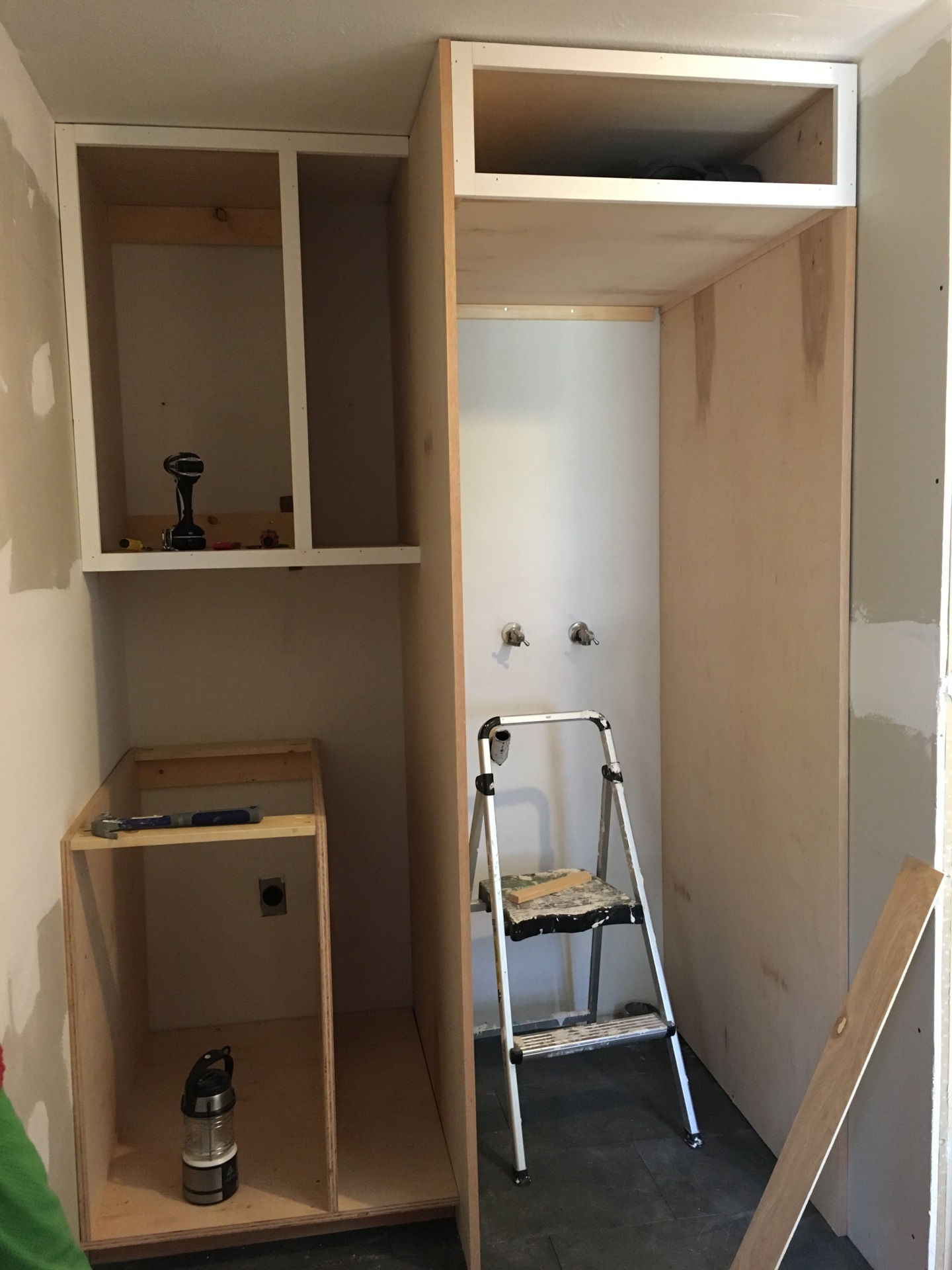 These cabinets went in so fast, I hardly have any pictures of building them. We started Friday after work and I took this photo Saturday afternoon. Each cabinet took about 1 sheet of 3/4" plywood and we have enough scraps leftover for the shelves and then some. I decided to build a box around the washer/dryer just to make it look a little more polished but you could totally leave that out and save about $50. The supplies for the cabinets were about $300 and we couldn't have done it without our kreg jig. I am still in shock at how quickly this room was transformed.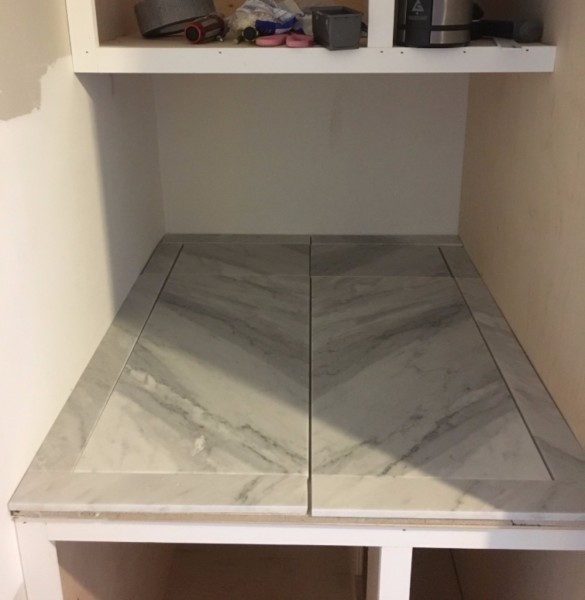 After the final faceframe was installed I was ready to tile the countertop. I picked this beautiful white/grey marble but I wasn't the one to pick the actual tiles they were just randomly selected at the tile store. I was so happy to see this beautiful veining. I think this is just the statement this tiny space needed. I don't know if you can tell from this photo but we made the cabinets deeper than normal to make fit the space a little better. The tile for this oversized counter was a little pricey, around $100 but it's such a showstopper, I couldn't imagine anything different there. I think this is my favorite part so far.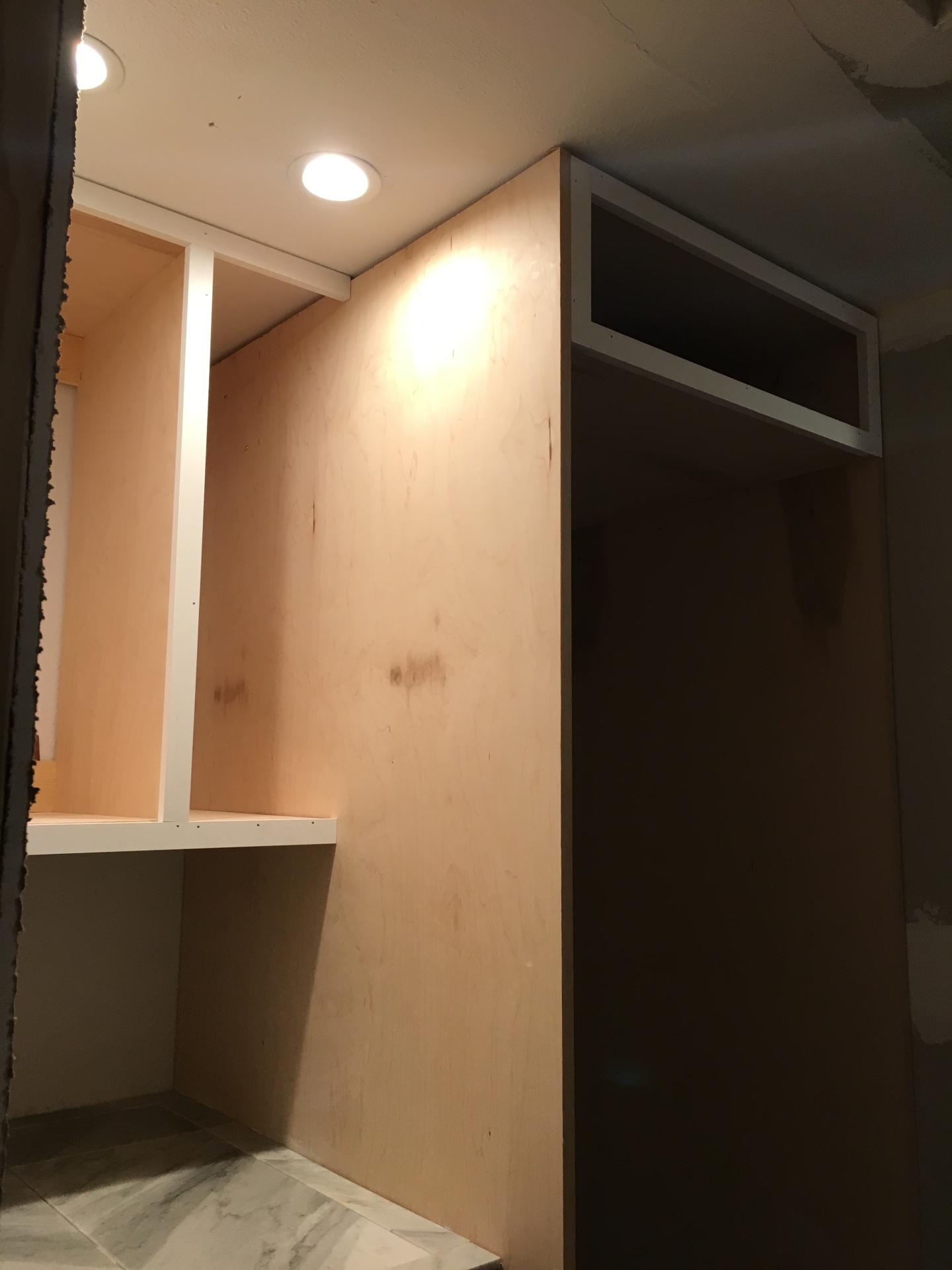 The final task for the weekend was to install these small can lights. I wasn't planning to put lights in but it seemed so dark in there after the cabinets were installed. I simply wired them into the existing hallway switch so I didn't have to cut into my new drywall and give them their own. Since the upper cabinet is deeper than a standard cabinet I feel like the back of the counter is a little dark so I might add under cabinet lighting but I think I'll make that decidsion when everything is complete and I see what it looks like painted. I'm hoping adding doors and painting everything white will brighten the space a little. 
Well, 
that's it for now. Next step is paint, doors and trim! Then I'll be just about done and ready to move to the next project! I can't wait to share the finished product with you!
The wall to the left of the cabinets needs a little sprucing up, any ideas? What would you do? Tell me below!